---
Private Pilot and Recreational Pilot Ground School Course, 2023 Edition, by Michael J. Culhane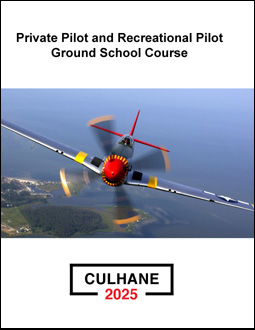 This complete, comprehensive course covers all required ground subjects for the Transport Canada Private pilot written examination (PPAER) for aeroplanes and for the Transport Canada Recreational Pilot Permit written (RPPAE) for aeroplanes. These topics are included:
CARs, Air Law, Air Traffic Procedures, Licencing Requirements
Airframes, Engines, Aircraft Systems
Aerodynamics and Theory of Flight
Flight Instruments
Aviation Weather
Navigation, Radio Aids and Electronic Theory
Flight Operations, Human Factors and Pilot Decision Making
This course has all necessary background illustrations, charts (in colour), tables and numerous example problems. All subjects are numbered and cross referenced to Transport Canada subject codes. A complete index is also provided. This course presents all mandatory subjects in a SINGLE SOURCE, which means the user need not obtain multiple, secondary texts such as texts for Air Regulations, Meteolology, Human Factors etc. - everthing needed (including chart extracts) is within one text. As well, this course is UP TO DATE for current requirements: given that standards in aviation change frequently it is very important that those preparing for the PPL/RPP written have the most current available manuals.
This course can be used for independent home study, and with the school's consent and supervision, time spent completing this course can be transferred over to meet the minimum ground school hour requirements. This text is also the key reference behind our Private Pilot online course so that those completing studies online have a referenced text that integrates perfectly with online training.
To maximize exam performance it is recommended that users of this course also obtain as a supplemental text our Private Pilot and Recreational Pilot Written Test Book which includes 12 supplemental PPAER/RPPAE exams, all cross referenced to the ground school course. As well, this manual is the key reference behind our Private Pilot Flight Training Guide which provides all air lessons, training standards, useful tips and hundreds of practical flight testing questions for the Private Pilot Licence.
Note: All three of our Private Pilot titles can be purchased together as a Private Pilot 3-Pack for a special, reduced price.
244 pages, perfect bound. ISBN 978-1-895801-71-2.
Retail price: $124.95 CDN.
Click here to order!