---
Instrument Rating Written Test Book, 2024 Edition, by Michael J. Culhane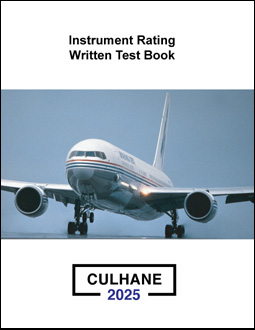 This useful test preparation manual is a supplement to Instrument Rating Ground School Course, and contains 8 sets of realistic Transport Canada Instrument Rating (INRAT) sample exams. The answers to the sample exams are cross referenced to the ground school course. All chart excerpts (in colour), weather maps, tables etc. are incorporated so no external references are required to write each exam. By cross referencing and re-learning any weak subject areas, higher marks will be obtained on Transport Canada written. This exam prep book is completely up to date for the latest IFR subjects and procedures.
This text can also be used for those preparing for the FAA Instrument Pilot to TCCA Instrument Rating exam and includes 2 FAAIA sample exams.
258 pages, perfect bound. ISBN 978-1-895801-39-2.
Retail price: $124.95 CDN
Click here to order!