---
The Sky's The Limit: Canadian Pilot's Manual of Aeronautics, 2018 Edition, by Michael J. Culhane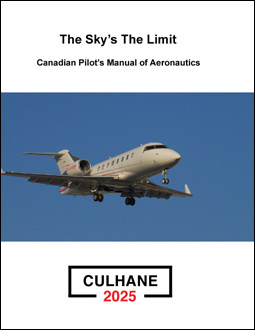 For aviators, Canada has a unique geography, weather and regulatory structure. Operationally, there are many unique attributes to flying in Canada for which there has long been a need for a publication that presents Canadian pilots with relevant aeronautical topics from a Canadian perspective. This latest Culhane title has been specifically written for Canadian pilots and is formatted as a complete, topical, modern, well organized and comphrensive encyclopedic reference.
Covering an extensive body of subjects, the approach behind this text is to provide greater depth treatment of aeroplane subjects, and with the inclusion of many advanced ATPL, IATRA and IFR subjects, the reader is provided with greater detail and subject coverage that, even though much of it will not be needed to score a basic "pass" the PPL or CPL writtens, in the end, this greater coverage will be of long range benefit as those advanced subjects "fall into place" with career advancement. By naming our text "The Sky's The Limit" we wish to remind the reader of this important benefit and the fact that this text reaches outward far beyond the basics.
Our text has been divided into the following major subject classifications:

Canadian Air Law
Engines, Airframes and Systems
Theory of Flight and Aerodynamics
Flight Instruments
Aviation Weather
Navigation
Flight Operations
Human Factors
This manual is the primary reference source behind our linked companion publication The Sky's The Limit: Workbook for Canadian Private Pilots, which is a supplemental training reference designed to help pilots learn the required subjects for the Canadian Private Pilot Licence. Our text also serves as the primary reference source behind our companion publication The Sky's The Limit: Workbook for Canadian Commercial Pilots, which serves as a supplemental training reference for those completing the Canadian Commercial Pilot Licence.

While our other training texts at the PPL/CPL level (ground school course texts and written test books) focus on providing the reader with an assured method to fast track preparation for exam prep purposes strictly in relation to a specific written exam, those following our Sky's The Limit system will be following less of a "task specific" system but in the end will be following a far more comprehensive plan. As well, a key aspect of our Sky's The Limit line is price: we have priced this line so as to offer excellent value for pilots on a budget. Regardless of what approach to ground studies our readers may prefer, we are pleased to offer greater choice by adding our Sky's The Limit line of titles to our line.

The Sky's The Limit: Canadian Pilot's Manual of Aeronautics is indexed, consisting of all required subjects from Private Pilot to and beyond Commercial Pilot, with numerous complete examples and instructions for complex subjects and calculation chains, and is illustrated throughout. Perfect bound, 264 pages. ISBN 978-1-895801-53-8. Retail price: $74.95.

Click here to order online!