---
The Sky's The Limit: Canadian Pilot's Manual of Aeronautics, 2022 Edition, by Michael J. Culhane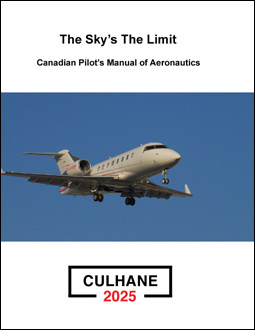 This text covers all current Transport Canada mandatory subjects for the Canadian Student Pilot Permit, Recreational Pilot Permit, Private Pilot Licence and Commercial Pilot Licence. Our text will allow the reader to quickly master the required knowledge for the PSTAR, RPPAE, PPAER and CPAER exams at a very modest price.
Our text has been divided into the following major subject classifications:

Canadian Air Law
Engines, Airframes and Systems
Theory of Flight and Aerodynamics
Flight Instruments
Aviation Weather
Navigation
Flight Operations
Human Factors
This manual is the primary reference source behind our linked companion publication The Sky's The Limit: Workbook for Canadian Private Pilots, which is a supplemental training reference designed to help pilots learn the required subjects for the Canadian Private Pilot Licence, having hundreds of detailed questions and answers along with a 100-question PPAER sample exam. Our text also serves as the primary reference source behind our companion publication The Sky's The Limit: Workbook for Canadian Commercial Pilots, which serves as a supplemental training reference for those completing the Canadian Commercial Pilot Licence, which includes hundreds of questions with detailed answers and a 100-question CPAER sample exam.

While our other training texts at the PPL/CPL level (ground school course texts and written test books) focus on providing the reader with an assured method to fast track preparation for exam prep purposes strictly in relation to a specific written exam, those following our Sky's The Limit system will be following less of a "task specific" system but in the end will be following a far more comprehensive plan. As well, a key aspect of our Sky's The Limit line is price: we have priced this line so as to offer excellent value for pilots on a budget. Regardless of what approach to ground studies our readers may prefer, we are pleased to offer greater choice by adding our Sky's The Limit line of titles to our line.

The Sky's The Limit: Canadian Pilot's Manual of Aeronautics is indexed, consisting of all required subjects from Private Pilot to and beyond Commercial Pilot, with numerous complete examples and instructions for complex subjects and calculation chains, and is illustrated throughout. Updated for new flight crew member fatigue management rules and flight duty times. Perfect bound, 288 pages. ISBN 978-1-895801-53-8. Retail price: $74.95.

Click here to order online!