---
Commercial Pilot Ground School Course, 2023 Edition, by Michael J. Culhane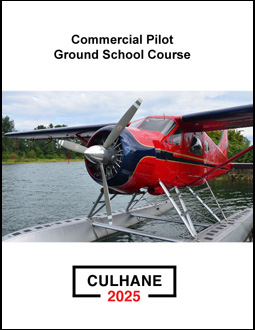 This complete course contains all mandatory ground study subjects for the Transport Canada Commercial Pilot written exam for aeroplanes (CPAER). Filled with illustrations, charts (in colour), exercises and complete instructions for complex subjects, users of this course will avoid any surprizes on the actual written. This course covers the following subject areas:
CARs, Air Law, Air Traffic Procedures, Licencing Requirements
Airframes, Engines, Aircraft Systems
Aerodynamics and Theory of Flight
Flight Instruments
Aviation Weather
Navigation, Radio Aids and Electronic Theory
Flight Operations, Human Factors and Pilot Decision Making
Our commercial pilot course manual also includes a detailed index, along with cross referencing to all Transport Canada subject codes.
This course can be used for those already enrolled in a school course, and for those wishing to prepare for their examination following a program of independent home study. With school approval and supervision, home study hours spent completing this course can be transferred over to meet the minimum 80 hours commercial pilot ground school attendance requirement. This edition is completely updated for the latest CPL subjects including new fatigue management rules/flight duty times.
[To maximize exam performance it is recommended that users of this course also obtain as a supplemental text our Commercial Pilot Written Test Book which includes 12 supplemental CPAER exams that are cross referenced to the ground school course.]
This text can also be used for those seeking to convert an FAA Commercial Pilot certificate into a TCAA Canadian CPL by writing the FAACA exam.
330 pages, perfect bound. ISBN 978-1-895801-36-1.
Retail price: $249.95 CDN.
Click here to order!