---
Helicopter Airline Transport Ground School Course, 2022 Edition, by Michael J. Culhane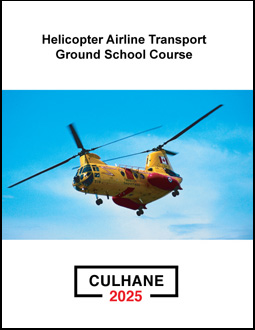 This is a complete course to self study for the Transport Canada Helicopter Airline Transport writtens: HARON and HAMRA, as well as for the FAA to TC ATPL-H conversion exam: FAAAH. In our course, the following subject areas are covered:
CARs, Air Law, Air Traffic Control Services and Procedures
Rotary Wing Airframes, Engines and Systems
Rotary Wing Theory of Flight and Flight Operations
Navigation General
Aviation Weather
Radio Navigation Aids, Flight Planning
Human Factors
This course includes a detailed index, along with cross referencing to all Transport Canada subject codes. Includes numerous illustrations inclusive of tables, charts, diagrams and performance data. Complete instructions are given for complex subject areas along with many detailed examples for problem chains. Users will find that virtually all background material that is relevant to the Canadian ATPL-H is included within this one, single-source publication, making it un-necessary to locate and research dozens of hard-to-find secondary references. Updated for new Transport Canada fatigue management/flight duty rules.
This course is perfect for independent home study: no additional background references are required and typically, users of this course can prepare for and complete ATPL-H and FAAAH writtens in only a few weeks of part time study.
[To maximize exam performance it is recommended that users of this course also obtain as a supplemental text our Helicopter Airline Transport Written Test Book, which includes 4 supplemental ATPL-H exams: 2 HARON and 2 HAMRA that are cross referenced to the ground school course.]
254 pages, perfect bound. ISBN 978-1-895801-48-4.
Retail price: $299.95 CDN.
Click here to order online!